http://es1.tecnavia.com/ee/recordjournalpublishing/default.php?pSetup=tiempo

Hartford – In a historical night, Guakia Inc. presented in honor of Ray Gonzalez the first Festival of Latin Jazz and Salsa at the Mortensen Riverfront Plaza in Hartford. Along with hon­ored guest Ray Gonzalez and his Orchestra, the featured artists included: pianist Luis Marin's quartet, Paoli Mejias' quintet, and the singer-trumpeter Jerry Medina closing the night. What started as a test for coming years, little by little turned into a gigan­tic musical monument. While the Caribbean music was bathing the breeze of the creek on the river, the colors of the Puerto Rican flag waved proudly, incon­spicuously fusing into the sky of Connecticut's Capitol as the presence of thousands of people was a clear testimony that this was the best outdoor concert Hartford had seen in decades.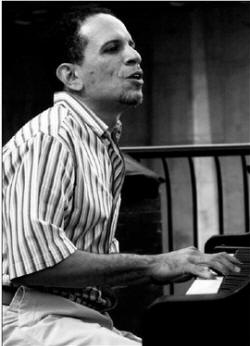 Luis Marin, Paoli Mejias, the youth generation of Puerto Rican musicians, proved that music is still part of the island life and heritage.
After a greeting from the mayor of Hartford, Eddie Perez and a ribbon cutting ceremony, Ray Gonzalez and his Orchestra took over the stage and per­formed from his newest produc­tion "Yo Tengo Lo Que Te Gusta". In addition to his own songs like: "A Mi Que", "El Swing", and "Yo Tengo Lo Que Te Gusta", Ray Gonzalez pro­duced a medley in tribute to the late Hector Lavoe who was dubbed "El Cantante de los Cantantes" with a few of his songs, "La Murga de Panama", "Juanito Alimaña", "El Cantante", "Periodico de Ayer", "Luto En Mi Corazón", "Mi Gente" and "Todo Tiene Su Final", and closing with one of Celia Cruz's biggest successes "Cuca La Cuca La".

Ray Gonzalez and his Orchestra demonstrated that groups with the Afro-Cuban sound, with its perfect percussion "clave" led by the bass and piano and spiced up by the trumpets and trombone, which catapulted salsa to the world, still exist. Spectators enclaved this "sabroso" sound which resulted in forcing everybody to move and feel ready to party. The Orchestra's lead singers delighted the audience with their interpre­tations.

Ray Gonzalez has become a cultural icon in the city of Hartford and in Connecticut due to the services he has provided and the talent he has shared through the years by means of his musical and cultural institution Guakia Inc. The organizers felt that Thursday's tribute was well deserved as Ray Gonzalez has planted a cultural seed in Hartford that promises to bloom for years to come.

The second presentation was Luis Marin and his quartet. This talented pianist hypnotized and caressed the atmosphere with melodies like: "Maria Cervantes" and "Fichas Negras". This artist has the unique ability to reach over, close your eyes and as he gently reaches within you, touch you with his music. As you sense the music grab a hold of the uni­verse it invites you to feel her and bathe in her sedative melody which when accompanied by his quartet reveals that gentle caresses need to be accompanied by the ecstasy, the force and the rabid passion that only his drum­mer Paolo Rivera can provide. This quartet proved why they have been honored with a Grammy Award for "Best Latin Jazz Artist". It was clearly evi­dent that the accolades received by Luis were deserved and why he is a preferred pianist among such piano legends as Eddie Palmieri, Papo Lucca and Ricardo "Richie" Ray.

Next, arrived another young Puerto Rican talent, Paoli Mejias and his quintet, exposing his fusion of African and Caribbean percussion with folkloric rhythms like Plena and Bolero. With a strong and happy sound that made his group one of the most authentic pioneers of this novel sound, he is filling scenes as much in Puerto Rico as in all the corners of the world. The song dedicated to his father performed with his pianist and bongos, filled the atmosphere with feeling and passion, an artist that bases his style on just that: feeling and passion. He then went on to play Tito Puente's core song, "Oye Como Va", with a new and different interpretation of the song Santana turned into a hymn of Caribbean joy everywhere in the world.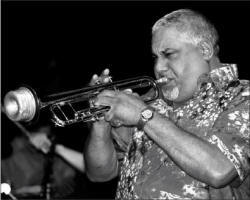 Later after a small recess to rearrange the instruments on stage, the artist in charge Jerry Medina arrived to close the night that took over the nocturnal atmosphere at the Mortensen River Front Plaza. The trum­peter- singer from Fajardo, quickly established his talent and those present realized that the night was coming to an end with the icing on the cake as this musi­cian can dominate any note with his voice and who in his reper­tory has a perfect mixture of Latin Jazz, Son and Blues.

With great improvisational control and a contagious flavor, Jerry played with those present in a professional and exquisite way. His musical training has stemmed from the best orches­tras and best interpreters of salsa, including the greatest school of all, the Fania All Stars. When he decided to become a soloist how­ever, he made sure that he had an original style, but without losing the great flavor of the greatest soneros.

As the mayor of Hartford said at the beginning of this historic evening, "Que viva la musica", because what we witnessed was an homage to Caribbean music, played by different generations of musicians, and a passion that only the Latino blood can feel and a beat that only a Latino heart can repeat.
The Ray Gonzalez Orquesta opened the evening and Jerry Medina closed the Festival, as it became a historic night for Puerto Rican music with a concert that embraced their spirit and soul with a lesson of what the "boricuas" really are: a race full of sabor, happiness and passion.

(Photos Raul Camargo)