SPRING 2007
CD REVIEW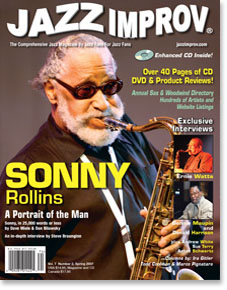 Transcend - Paoli Mejías
By: David Miele
Paoli Mejías is an eclectic, unorthodox and inventive percussionist with an ear not only for great music but for a great band to perform that music. His latest release, Transcend, blends jazz over-tones with Latin influences, creating an amalgam of groovy sounds that captivate and entertain from the first tune to the last. The list of sidemen is varied and impressive and the sound of this music is big and funky. Everything sits deep in the pocket, as well as showcasing the band and the individual soloists. Transcend is a fresh and captivating modern jazz release.
The disc is filled with originals from band members. The first of these is "Encomienda" written by saxophonist Miguel Zenón. The tune begins with a horn melody, followed by a vampy piano/percussion grove, which kicks into a medium tempo Latin feel. Zenón's melody is poppy and punchy, and he takes a wonderful solo over his composition. Mejías and the percussion section are featured in a breakdown over the piano vamp to end the tune.
"Pasaporte" was written by pianist Yan Carlos Artime. The balladic, swirling introduction settles into a medium tempo, heavy with Latin inflections from percussion and piano. Artime plays his melody alone and is then doubled on saxophone. This tune also features vocals and a percussion breakdown. From saxophonist Jaleel Shaw comes "Conflict of interests". The tune begins as a tenor/drums duet before settling into a fast, loose afro-Cuban feel. Everyone does a wonderful job on solos. "Egbin' pa mi" is an eclectic tune, beginning with a cacophony of sound from the horns, piano and percussion. The melody, on soprano sax slides in beneath this. The high intensity rhythm section playing continues during solos and makes this one of the most unusual and interesting tracks on the CD.
The program continues with another from Artime, entitled "Bailamo' a 7 mamá?" The tune begins with a syncopated horn line which falls into a cha-cha-esque vibe, set in a medium tempo. Bassist Hans Glawischnig takes a particularly fine solo, and the percussion breakdown is again over a funky piano vamp from the composer. "Eshu l'ona" is another one of the most interesting tunes, set in a brisk 7/8 tempo. The odd time signature is handled effortlessly by the band, and both the melody and solos sound seamlessly smooth. The title track is a moody and atmospheric ballad. The band achieves a gorgeous, gently "shimmering" feel. "El León" is a fast samba-esque tune, featuring vocals and another magnificent percussion solo. The disc closes with another lively Latin vocal tune, entitle "Oye como suena".
Paoli Mejías transcends the conventions of mainstream jazz, creating a rich tapestry of original, Latin flavored, improvisational music. One thing I've yet to mention is that this band swings! Mejías is a talented and groovy percussionist and his chosen sidemen feed off of his deep grooves. He brings out the best in them and they bring out the best in him. Transcend is full of spirited, fiery Latin. The material is well written and well performed. This is compelling music - an impressive debut.